Healthcare Support and Entitlements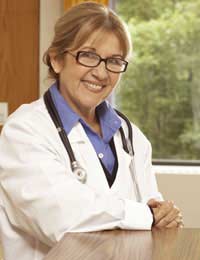 Since the closure of NHS long-stay hospitals, the mainstream NHS has struggled somewhat to make adequate provisions for people with learning disabilities. However, people with learning disabilities are statistically more susceptible to health problems. They may have related or additional chronic and mental health problems that can require extra healthcare support, and may struggle to access suitable healthcare services and support. This is especially the case for those with severe or profound learning disabilities.
As good health is vital to achieving social inclusion and independent living, it is imperative that people with learning disabilities receive adequate healthcare support.
Healthcare Support Problems
Recent surveys commissioned for the Government have revealed a deficit in accessible healthcare services for people with learning disabilities, most notably in primary care and hospital provisions. For instance, people with learning disabilities have a notably poorer uptake of invitations to access screening services, and it is also felt that for patients with challenging behaviour, there is an over-dependence on psychotropic drugs. The Government is working on introducing and improving specialist services for people with severe challenging behaviour, in order to re-address this issue.
It is also felt that in some circumstances, there is perhaps a lack of understanding from doctors and social care staff of the healthcare requirements of people with learning disabilities. This may be especially the case if support staff or doctors have relatively little experience of working with or treating people with learning disabilities – they may fail to recognise potential health complications that arise as a result of the various conditions that cause learning disabilities.
Mainstream Healthcare
Although specialist NHS learning disability services often provide good health support, the Government is keen to improve mainstream healthcare services for people with learning disabilities. They feel that the NHS often fails to consider or include the needs of people with learning disabilities, and has been slow in recognising the additional skills that are required for patients with learning disabilities.
Difficultly in understanding the needs of patients can sometimes be as a result of poor communication. It has been suggested that more time and provisions are set aside to allow health professionals to make detailed assessments of the health requirements of patients with learning disabilities.
Improving Access To Healthcare Support
One of the main issues in healthcare support for people with learning disabilities is the difficulty in gaining access to assessments and treatments. It is believed to be a fundamental right that everyone has equal entitlement and access to healthcare treatment. Yet there is some feeling that accessible healthcare can depend on the quality of local services. Some people may have poorer services based solely on their location. Others may face discrimination, especially in ethnic minorities where cultural stigma can be a limiting factor.
Poverty and unemployment, and social exclusion have also been identified as fundamental factors that can affect accessibility.
Moving Forward
This is why the Government is aiming to improving access to healthcare services and entitlements for people with learning disabilities. They also want healthcare services to provide more individualised facilities and services, so that the needs of each person is assessed and met, optimising the standard of healthcare support and treatment.
They are also keen to promote person-centred planning as a way to improve specific treatment and healthcare plans. This can include increased contact with social care workers, as well as training social care support staff to promote healthy lifestyles, as some people with learning disabilities may have poor bodily awareness as well as suppressed pain responses. It is also felt that support staff need to be able to recognise gradual deteriorations in health, such as failing hearing or eyesight.
Overall, there are still large gaps in both having and obtaining access to healthcare for people with learning disabilities. However, a number of studies and research have been commissioned to further improve healthcare provisions and support, as well as moves toward person-centred planning to help meet the needs of each individual with learning disabilities.
You might also like...