What is 'Time Out'?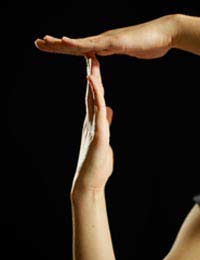 Anybody with a learning disability may, at times, display what is known as 'challenging behaviour'. Challenging behaviour can be summarised as "culturally abornmal behaviour(s) of such an intensity, frequency or duration that the physical safety of the person or others is likely to be place in serious jeopardy, or behaviour which is likely to seriously use of, or result in the person being denied access to, ordinary community facilities." (Emerson, 2001).
Examples of challenging behaviour include kicking, headbutting, spitting, destructive or aggressive behaviour. Challenging behaviour may often be displayed on a long-term basis, and at times may become out of control. During these times, the challenging behaviour may place the individual and others around them at risk from injury, meaning that intervention is an unfortunate necessity.
Different Behaviour Management Techniques
There are many different ways that challenging behaviour can be managed. In recent years, positive behaviour support has become a much more prevalent long-term behaviour management method. But other behaviour management techniques are still very much in evidence, some of which remain under close scrutiny by professionals and learning disability organisations and charities alike.
The use of psychotic medication to help manage challenging and self-injurious behaviour remains controversial, due to a lacking evidence base and disputes over their long-term effectiveness in actually changing behaviours. In part due to changing attitudes and the legal effect of the Human Rights Act (1998), other 'aversion' and 'punishment' behavioural management techniques are moving away from certain practices.
What is 'Time Out'?
One such technique that remains a subject of debate is the use of 'Time Out'. This is an intervention technique that removes or disengages the individual from an activity, circumstance or environment that may be exacerbating the behaviour. It is not intended as a standalone intervention technique, moreover as part of a larger, more long-term positive framework of support and planning.
'Time out' can be implemented in a number of ways, depending on the individual, their behaviour patterns, and their abilities. It may involve asking or instructing the individual to leave their activity and return only when they feel able to control or stop their challenging behaviour. Alternatively it may involve supervised removal from the activity or environment for a set period of time, or complete prevention of involvement in certain activities that exacerbate or reinforce their challenging behaviours, until appropriate engagement is achieved. Ultimately, the goal of 'time out' is to attain a long-term change in behaviour, but only when used in conjunction with wider behaviour support plans.
Time Out Does Not Mean Seclusion
One prevalent issue with implementing the 'time out' method is defining the boundaries between 'time out' and 'seclusion'. It is important that carers and professionals alike realise the difference between the two. In some cases, seclusion may actually be an illegal practice. It can cause emotional distress, confusion and may require personal intervention or restraint that makes the procedure much more risky than even some forms of physical intervention.
'Time out' can be seen as a punitive measure, and should only be used as a last resort, and only ever as a small part of a behavioural change strategy. The use of 'time out' should never mean that the person is left alone in seclusion., or depend on a particular 'time out' room being available.
Seclusion as a behaviour management technique is widely regarded as a breach of basic human rights. With 'time out', the individual should be accompanied – monitoring from outside the room is not deemed appropriate - and is able to independently and voluntarily enter and leave the allotted setting or activity when they choose.
You might also like...