Advocacy and Learning Disabilities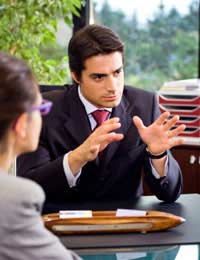 When the UK Government published their white paper Valuing People in 2001, it was made clear that they wanted to improve the choices and life opportunities available to people with learning disabilities.
To do this, many services and provisions made for learning-disabled people needed to change to encourage and allow for advocacy.
What Does Advocacy Mean?
Advocacy can be defined as the act of arguing or pleading for something, most commonly a cause, idea or movement. In terms of learning disabilities, the term relates more specifically to voicing an opinion or expressing a view relating to the services, choices, rights, opportunities and problems faced by people with learning disabilities.
Collective Advocacy - relates to a group of people coming together to express and explore how they can make their opinions and experiences made known.
Citizen Advocacy - is the term used to define the action of a citizen undertaking unpaid long-term support for a vulnerable person, ensuring that the vulnerable person's interests and opinions are heard. Citizen advocacy promotes independent living and discourages dependency on paid support.
Independent Advocacy - is a service provided by a specialist group or agency. The advocacy provided by such bodies can be paid, or undertaken by a voluntary advocacy group. People with learning disabilities should have access to advocacy in order to help express their ideas, opinions and choices. Independent advocacy is vitally important in the successful running of social care settings, as well as in the provision of care services, financial services and in healthcare. It allows individuals to safeguard themselves and achieve their goals and desires, especially where a conflict of interest may arise.
Communication Issues
In the past, people with learning disabilities have suffered discrimination and social exclusion. However, in the 21st century, a new approach has been nurtured, with advocacy at the centre of the implementation of changes. It is felt that people with learning disabilities should be consulted and have a say in how services, assessments and treatments are planned and carried out.
However, there can be difficulty in communication and understanding the views, concerns and opinions of people with learning disabilities. This is especially the case for people with severe and profound disabilities. This is why advocacy is so important for people with learning disabilities, as they can be exceptionally vulnerable to financial, physical and institutional abuse.
Advocacy Groups
Along with groups such as People First, BILD (British Institute of Learning Disabilities) is one such group that promotes advocacy. Their specialist advocacy team works with local authorities, as well as providing written policies and guidelines for other pro-advocacy groups to adhere to.
BILD and other advocacy groups not only provide written guidelines, but also seek to empower people with learning disabilities in such a way that they are able to make informed decisions that affect their lives. Such groups encourage individualisation, and seek to promote approaches to services that are focused on the individual and their needs, rather than just the disability. This in turn is thought to improve the quality of life, choices and opportunities available to people with learning disabilities.
In short, advocacy is a step in the right direction towards total equality between both those with and without learning disabilities.
You might also like...