Learning Disabilities and Self-Injurious Behaviour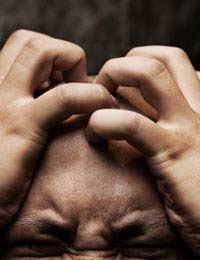 It is only since the 1980s that community-based studies into self-injurious behaviour (SIB) has been conducted. Before this time, any research tended to be restricted to hospital populations. As a result of the community-based research, we now understand significantly more about self-injurious behaviour, its causes, and subsequent treatments.
Self injurious behaviour has been defined as:
"Any behaviour, initiated by the individual, which directly results in physical harm to that individual. Physical harm will be considered to include bruising, laceration, bleeding, bone fractures and breakages and other tissue damage". (Murphy and Wilson, 1985)
Self-injurious behaviour can include behaviours such as biting of the hands, head slapping and banging or rubbing head or other body parts against hard surfaces, picking at wounds or skin, gouging of the eyes, nose, mouth, gouging of sexual organs, striking the body (face, chest, torso, face) with hands or knees, and eating faeces or other inedible substances.
Since this study was published, it has also been suggested that hair-pulling, self-induced vomiting and re-ingestion of vomit and light, repetitive movements such as head tapping should be classed as self-injurious behaviour. Although these behaviours don't necessarily produce current tissue damage, they can eventually result in damage. Repetitive behaviours that do not produce tissue damage are referred to as stereotypies.
How Common is Self-Injurious Behaviour?
Through their research 'Epidemiology of self-injurious behaviour in adults with learning disabilities', Collacott et al. (1998), it was suggested that self-injurious behaviour is prevalent in the population of adults with learning disabilities, with 17.4% exhibiting behaviours. Of those 17.4% of the population, 1.7% of the individuals frequently exhibited severe behaviour. It was found that there was no gender difference between those with or without self-injurious behaviour.
What is the Reason for Exhibiting Self-Injurious Behaviours?
The underlying cause that results in self-injurious behaviour can depend on the individual and their learning disability. Little is actually known about why self-injurious behaviour starts, although studies have revealed that it often begins in young children with severe or profound learning disabilities. Behaviours may begin as stereotypies, but later develops into self-injury, or may disappear altogether.
It has been suggested that certain learning disabilities and their characteristics may increase the risk of self-injurious behaviour. These include severe and profound learning disabilities, Prada-Willi syndrome, Autism, Lesch-Nyhan syndrome, Tourette's syndrome, De Lange syndrome and Smith-Magenis syndrome.
Other individual characteristics may also increase the risk, including poor mobility, poor expressive communication and interaction skills and language, sensory deficits, neurological damage, and stereotypies. Although many people with learning disabilities exhibit these behaviours, they will not necessarily have or lead to self-injurious behaviour.
It is also thought that self-injurious behaviour may stimulate the production of endogenous opiates, which make the individual feel 'good' or relaxed. Studies suggested that these endogenous opiates worked like morphine, helping to reduce any pain from the injuries, as well as proving somewhat addictive.
Behaviour Therapy
Self-injurious behaviour may or may not always be deliberate. It can arise as a result of the individual attempting to obtain attention or a goal (e.g. a cuddle), avoid certain social situations, due too much or too little environmental stimulation, or poor physical or emotional health. Certain environments and illness may cause the behaviours to worsen, and it has been suggested that during the teenage years, behaviours may become more severe or frequent.
It may also be a way to communicate certain messages, such as 'go away', 'come here', or 'help'. The problem is, however, that self-injury can communicate different messages in different situations, and can be difficult to treat.
Early intervention, and teaching of communication skills is a first step in reducing self-injurious behaviours. Children and adults alike can benefit from working with psychologists and behavioural specialists, who can help them convey their thoughts, feelings and opinions through speech or signs. This is called Functional Communication Training (FCT) and involves finding the best way for the individual to communicate and make requests according to their skills, and to match the actual function of their self-injury.
Another avenue to reducing self-injurious behaviour is through medication. This can be used in conjunction with FCT. Only one type of medication is currently known to have any significant effect, as it mirrors the effects of the endogenous opiates. Naltrexone (or Naloxone) is only ever administered under strict medical and psychological conditions. The success of the use of Naloxone or Naltrexone is generally very good, but may depend on the site and topography of the self-injurious behaviour.
You might also like...