Transitions and Young People With Learning Disabilities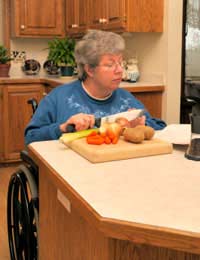 For many young people, moving from school life into a new 'phase' of young adulthood – be it at 16 or 18 – can be both an exciting and daunting prospect. And for young people with a learning disability, this time of transition can also present new challenges in terms of employment, education, health, friendships and relationships, and social life.
That's why it's so crucial that each young person with a learning disability has the right kind of support and planning available to them, to help reduce the stress and anxiety of transitioning, and offer equal opportunities as their new life unfolds and moves forward.
Having a Voice
In their three-year strategy 'Valuing People Now', the UK Government has outlined ways in which the lives of people with learning disabilities, as well as their families, can be improved. One aspect of Valuing People Now stipulates that all young people with learning disabilities should be supported with PCP (person-centred planning), which includes specific reviews and plans during their period of transition.
The main focus of such reviews is to ensure that each young person with a learning disability is given ample opportunity to have their say about what they want to achieve, and are given the necessary support and advice to help them reach their goals. The reviews also make sure that they are fully and positively aware of what their future possibilities are, as well as setting out a clear action plan to reach their goals, as well as covering other areas of their life such as housing, community care and social life, or further education.
Equal Opportunities in Paid Employment
Transition involves lots of different aspects of moving into adulthood. There are many organisations dedicated to providing resources and support in all areas of transition, including health, finances, housing, transport and travel, and positive activities.
As with all young people, employment remains an important subject for people with disabilities. The UK Government says that young people with learning disabilities should have equal life opportunities, and this includes the chance to leave school and move into paid employment, if they are able to do so.
The UK Government Department of Health's 'Getting a Life' programme addresses the various issues surrounding the different transition paths and support required for young people with moderate or severe learning disabilities to obtain paid employment. It also enables professionals to look at ways in which changes to the system could make specific transitions more efficient and effective.
The programme focuses on a number of aims to improve employment outcomes, such as the exploration of ways in which person centred planning will bring together the different employment processes, funding streams and assessments from a variety of local and national policy areas. These include a variety of public resources, such as LSC and Connexions (for post-16), as well as Job Centre Plus, and adult social care assessment and day service funding.
It is envisaged that 'Getting a Life' will help to establish and bring together a community of professionals and experts that can devise new approaches, ease the challenges and present alternative pathways to employment for young people with learning disabilities during their 'transition'.
You might also like...
my son vincent is 19 he has learning disability he has got the IQ mental age of a 4 year old child he likes watching CBBS childrens television programmes and playing i look after him wosh and change him he is incontinent is their any help 07821049400
good boy
- 19-Feb-12 @ 4:01 PM