How I Detected Signs of Autism in My Child: Case Study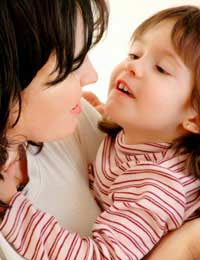 Parents like to keep a close eye on their child's development and often worry when they notice behaviour or responses that seem abnormal. Young kids go through a wide variety of developmental stages and it can be tricky to identify signs of abnormal development, such as autism. Whilst you should be careful not to jump to any hasty conclusions and should always seek professional opinions and advice, there are a few key signs of autism that it is worth looking out for. We caught up with Hilary Rose to find out about how she detected signs of autism in her son Simon and the actions she took to ensure he received all the support and help he needed.
Q. How old was your son when you began to suspect he may have autism?
He was about two and a half years old. I've since learnt that autism usually makes itself known in infants between the ages of 18 months and three years. Simon was my first child, though, so the whole experience of parenting was new to me and I was unsure exactly what to expect. Perhaps that's why it took me a while to detect any signs of autism. Of course, it's important to remember that every child is different and brilliant in their own way. It's kids' uniqueness that makes them so special. When it comes to kids, nothing is 'normal'.
Q. What sorts of behaviour was Simon displaying?
Simon has always been shy but I began to notice that he was much more introverted than the other kids at his playgroup. He often seemed uncomfortable in groups and was not as ready and willing as the other kids to collaborate and play together. He was particularly wary of imaginative, role play or 'let's pretend' games. I also noticed that, from time to time, he was relatively unresponsive with my husband and I. Now and then, as a baby, he would often seem unaware of our presence. As a toddler, he often seemed distracted and was unwilling to look us in the eye.
Q. Where there any other key signs that you noticed?
His mannerisms were an indicator too, I suppose. He would often push his right fist into the palm of his left hand and would repeat this action again and again. He also made a noise similar to the sound of clearing your throat. We noticed that these ticks became more apparent whenever he was stressed, nervous, tired or bored.
Q. At what stage did you seek professional advice?
We were keen not to jump to any conclusions or make a big deal of Simon's behaviour. At the same time, though, we wanted him to be happy and healthy and to have the support he needed. It wasn't until Simon started infant school that we decided to take action. His teacher got in touch to say that Simon had been behaving rather aggressively and was not settling down well into the new routine of school life. She suggested that Simon be tested for autism.
Q. What form did the diagnosis take?
It was all very simple. I made an appointment with our GP and took along a list of Simon's behaviours. The GP referred us to an expert diagnostician who provided us with a full report at the end of the assessment session. Simon was diagnosed with autism, which felt slightly daunting, but we were able to ask plenty of questions. The diagnostician was also careful to cut the medical jargon and ensure we understood all that was being said.
Q. Was the diagnosing a relief or a shock?
Whilst it was a stressful time, it was also a real relief to have Simon diagnosed. Being able to vocalise it was extremely useful. It meant we could then concentrate on celebrating his personality and getting him the help he needed. We were able to adapt our routines and behaviour at home and Simon began to receive extra support at school. All of these small changes helped to make Simon feel more comfortable. He's now a happy young boy of ten, loves learning and has a brilliant group of friends who he hangs out with at lunchtime and often brings home for tea.
If you suspect your child may have autism, it's important to do something about it. Whilst diagnostic labels can be constricting, they can also empower you to help your child get the most out of their social life, their education and their passions, as Hilary's story proves.
You might also like...