Art Therapy and Learning Disabilities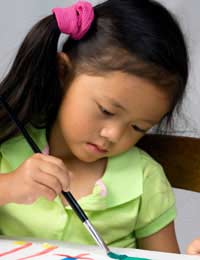 Some people with a learning disability may have difficulty with spoken communication or social skills. There are people that also have difficulties with non-verbal communication which can lead them to feel isolated or misunderstood. Particularly during times of negative feelings, change or distress, this can lead to many problems in getting across thoughts, opinions or preferences - which can itself lead to anxiety, frustration and behavioural problems.
But because of their issues surrounding expression and communication, a person's behavioural problems or mental health issues may be exacerbated. This is why art therapy can prove very effective for some people with a learning disability. It works in a similar way to psychotherapy, in that it is used to explore state of mind, and offers ways to communicate and discover thoughts and feelings, whilst working towards solutions.
It also offers a completely alternate form of independent expression for those with multiple or severe learning disabilities. Art therapies are thought to be motivational, and may help boost learning whilst stimulating communication and interaction.
What Exactly are Arts Therapies?
Arts therapy can take many different forms, and the actual practical therapy itself will vary greatly between individuals, depending on their needs or issues. This kind of therapy is not just for people with learning disabilities; it can also work for people with mental health issues, in schools and for elderly people.
The main areas of arts therapies include art therapy, including drawing and painting, music therapy, dance and movement therapy as well as the lesser known 'dramatherapy'. The type of therapy should be tailored to suit each person, but all of these different aspects of art therapy tend to work towards understanding and expressing thoughts and emotions, as well as achieving healthy growth, healing and interaction.
How Are Arts Therapies Taught?
Art Therapy for people with learning disabilities can be taught in groups, or centred towards individuals. The activities are not 'pleasure activities' or hobbies, but constructive learning tools that help people understand their feelings and develop their interactive skills, or address their personal issues in a controlled environment.
The relationship between the therapist and the client is professional; through the therapy issues are identified, understood and worked through and developed. The way this is carried out is completely dependent on the individual; sometimes it may be done on a one-to-one basis, or in other instances is developed through group work.
Art therapy is so important because it can be undertaken by so many different people. A person of any ability, with any level of learning disability can take part in art therapy, particularly since non-verbal activities can form a large part of arts therapies.
Where Can I Access Art Therapies?
There is no local or regional structure of Art therapy services as such; however, the British Association for Arts Therapists will be able to provide information of Arts Therapists in your area. Some local authorities may also have art therapy services, although this is by no means consistent across the UK.
If you have already located an Arts Therapist, you should ensure that they are members of the Allied Health Professions, as stipulated by law. You can also check that they are properly qualified and – as the law states – registered with Health Professionals Council by calling 020 7582 0866.
You might also like...