What is Turner Syndrome?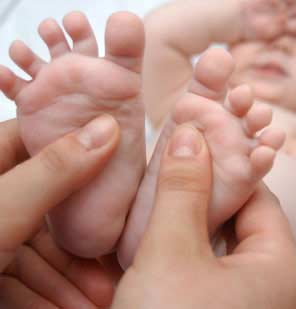 Turner Syndrome, or Turner-Ullrich Syndrome, is a genetic abnormality that affects around 1 in 2500 girls. Approximately half of the girls born with Turner Syndrome will show certain physical attributes, the severity of which can differ greatly between individuals.
Characteristics of Turner Syndrome
Some immediate signs of a child born with Turner Syndrome may include puffy hands and feet, spots of skin discolouration (nevi), wide-set nipples and a webbed neck. Some other typical characteristic attributes during childhood may include stunted growth, a broad, shield-like chest area, low-set ears and a low hairline. Some girls with Turner Syndrome will also fail to show any signs of puberty, due to a loss of ovarian functions and a menstrual cycle. This means that it is not uncommon for girls born with Turner Syndrome to be sterile and therefore unable to conceive.
Typically, a girl with Turner Syndrome will only grow to around 4feet 8 inches, but with early intervention, in some cases growth hormones can be administered.
Other more severe congenital conditions may be present, including kidney and heart dysfunctions. Some of these associated conditions can be corrected with surgery. Thyroid malfunctions, such as hyperthyroidism, may also be present as a result of Turner Syndrome. Osteoporosis may also be developed later on in life, due to an inadequate production of oestrogen. It's worth noting that each presentation of Turner Syndrome is entirely dependent on the individual.
Causes of Turner Syndrome
Most females are born with two 'X' chromosomes. With Turner Syndrome, one of the X chromosomes is missing, or has abnormalities. The complete absence of an entire sex chromosome is known as monosomy– in this case the missing X means that the condition can also be known as 'monosomy X'. 'Monosomy X' is the most commonly occurring condition for girls with Turner Syndrome.
But in some cases the abnormalities are as a result of missing cells within the chromosome, which is known as 'Turner mosaicism'. It is for this reason that there is such a broad range of conditions and physical features that are present due to the syndrome – it is completely dependent upon which part of the chromosome has been deleted.
The exact cause of this condition remains, at present, unknown although there are many theories and speculations. It is thought that the condition is not inherited, but is as a result of a random event during the formation of the reproductive cells.
Turner Syndrome and Learning Disabilities
Whilst it is believed that the majority of girls with Turner Syndrome have what is classed as 'normal intelligence', a proportion can also have learning disabilities. Again, this may be entirely dependent upon the presentation of the condition within the individual – for instance due to certain developmental delays. It is thought that children with Turner Syndrome may, however, be at a higher risk of developing behavioural problems in certain areas, including impulsivity, social isolation and 'medical noncompliance'.
Although the range of intellectual development is generally deemed to be normal, it has also been suggested that girls with Turner Syndrome may have difficulty with learning specific skill sets, particularly in the area of mathematics.
In most cases, the majority of girls and women with Turner Syndrome are able to live successful, full lives – living independently, attending mainstream schools, studying, working jobs and forming healthy relationships and friendships.
You might also like...