ADHD & Learning Disabilities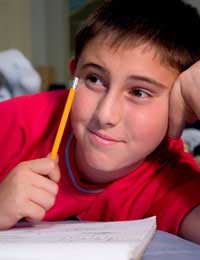 There are many psychological conditions that may affect a person's ability to learn. These conditions may not always directly be considered to be a learning disability. Attention Deficit Hyperactivity Disorder (ADHD) is one such condition. However, it is recognised that a large proportion of people with ADHD may also have some form of one or more specific learning disabilities.
Diagnosing ADHD
ADHD encapsulates a number of symptoms, not all of which are necessarily present in every case. This can sometimes make a positive diagnosis difficult. As the term ADHD covers such a broad spectrum of possible symptoms, in 1992 the World Health Organisation created a new term entitled 'Hyperkinetic Disorder'. This is highly specific to only the core symptoms of ADHD, and is therefore a narrower diagnosis.
One or more of the symptoms associated with ADHD are normally first observed when a child reaches early school age. In this respect it is often wrongly confused with several forms of learning disabilities. Specific statistics relating to the number of people that have ADHD are hard to determine, since diagnosis is often difficult. However, it is thought that up to 5% of people live with some form of ADHD.
People with ADHD often experience difficulty in holding concentration, and are said to be inattentive. They may also find they are impulsive and hyperactive. In some instances, certain symptoms may be more prevalent than others. For instance, people that mainly exhibit symptoms of being inattentive, but experience hyperactivity to a much lesser extent are sometimes referred to as having Attention Deficit Disorder (ADD). This is also referred to as 'ADHD Predominantly Inattentive Type'.
Similarly, people that mainly experience the hyperactive and impulsive side of ADHD are often classed as having 'ADHD Predominantly Hyperactive Impulsive Type.'
Treatment For ADHD
When a person is positively identified as having ADHD, they are commonly placed on some form of medication in an attempt to make the symptoms more manageable. This medication normally consists of stimulants. The rationale is that the person with ADHD will be more able to concentrate, if their central nervous system is stimulated. Medications that are commonly used include, Ritalin, Adderall and Dexadrine.
However, there is growing concern that the side effects of these medications may be so detrimental that they outweigh the positive effects of dealing with ADHD. In many instances, patients on these stimulants will have problems with reduced appetite and disturbed sleeping patterns. This is in many ways similar to the problems experienced by heavy coffee drinkers.
Sometimes the side effects are so apparent that the person with ADHD will need to use some form of sedative simply to achieve a good night's sleep. Anti-depressants are also sometimes prescribed, and these too carry with them unwanted side effects.
For these reasons, people with ADHD and their health advisors are being urged to explore different potential methods for combating the main symptoms of ADHD.
As a person with ADHD gets older, their symptoms often become habitual to a greater degree than where children are concerned. These people are encouraged to try cognitive behavioural therapy, which in many cases is highly successful and reduces the need to rely on the common forms of medication.
You might also like...
@ADHDavid. Thanks for sharing your experiences, we hope that it helps to make others aware of what it's like to live with ADHD.
AboutLearningDisabilities
- 12-Mar-15 @ 2:27 PM
I was diagnosed when i was about 13, i have carried ADHD into adulthood. What i find difficult is the lack of support for Adults with ADHD.I was taking ritalin and risperidal for 3/4 year but read research that it slows the brains catching up ability is slowed but these medications. I have no doubt I wouldn't of gotten any qualifications had i not been taking them at school but i do wonder if that's why I haven't grown out of ADHD at the age of 28. For me the inability to sleep effectively has caused many problems as life goes on and i now take sleeping tablets regularly.I forget appointments and to do things,im quite intelligent with an IQ of 129 but sometimes i just can't apply myself even when im set on completing a task and that is frustrating and difficult to explain to an employer and has lost me employment in the past. Please World become a little more understanding and caring we don't mean to be so daft
ADHDavid
- 10-Mar-15 @ 8:34 AM
hi i have child 8 year he has asperger sundron he suffer from disabilty reading but he is very good in mathsi i want cinter in london take care for my son or school for him i will be happy if you could help me be i will be in manchstr during the peviod august in 6 monthes. hanan
ahmed
- 16-Apr-14 @ 12:57 PM
I was diagnosed when it was still called Hyperactivity disorder, which I believe was the for-runner to ADHD, and Ritalin was an experimental drug. So went through school without knowing why I could not concentrate. But I have many other symptoms, very poor short term memory which means I always forget to do things. Drives my wife mad. The other one is using the wrong word when I talk, I often forget a simple word when I'm speaking. These symptoms are never mentioned by authority site.
paul
- 30-Jan-12 @ 5:58 PM