What is Fetal Alcohol Spectrum Disorder?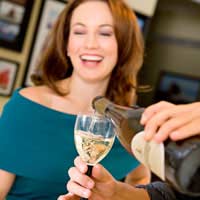 Fetal Alcohol Spectrum Disorder (FASD) Or Fetal Alcohol Syndrome (FAS) is an umbrella term that describes the different mental and physical deficiencies that arise as a result of the exposure of an embryo to alcohol consumed by a pregnant woman. Although light and moderate drinking alcohol during pregnancy may not cause this disorder, the risk of the child being born with Fetal Alcohol Spectrum Disorder is still so substantial that UK Department of Health advises not to consume any alcohol at all during pregnancy. The condition is entirely preventable, yet still remains a prevalent cause of birth defects.
How Does Fetal Alcohol Spectrum Disorder occur?
When a pregnant woman consumes alcohol, the alcohol is also passed through her placenta, directly into the developing embryo. This is where the alcohol can begin to interfere, sometimes causing permanent problems with the development of the central nervous system. It can also affect many other functions and developments, including causing stunted growth and facial abnormalities, problems with fine motor skills, organ dysfunction, developmental delay and other primary cognitive functions. The risk of brain damage is present throughout the whole pregnancy, as the brain is constantly developing during this time.
Many of the symptoms associated with Fetal Alcohol Spectrum Disorder can be classed as learning disabilities, which may include poor language cohesion, memory problems, an inability to concentrate, a lack of socialisation skills, hyperactivity and challenging behaviour such as stubbornness and impulsiveness. These in turn may lead to 'secondary' problems, such as anxiety, depression, exclusion, vulnerability to drug habits and other mental health problems.
How is the Disorder Diagnosed?
Children with Fetal Alcohol Spectrum Disorder may display average or above average intelligence, but their behavioural problems may interfere with their ability to learn effectively. Some instances of FASD may go undetected, with the symptoms becoming more prevalent in adulthood. They may also be misdiagnosed as other learning disabilities or syndromes, such as ADHD.
The characteristics listed previously may lead to a diagnosis of FASD, identified in line with guidelines for diagnosing the condition. But many people with Fetal Alcohol Spectrum Disorder may also display characteristic facial abnormalities. These can include an indistinct philtrum – the groove usually present between the nose and upper lip flattens during prenatal exposure to alcohol - a thin upper lip, and small separation between the upper and lower eyelids. The severity of these facial features is often correlated to the level of brain damage as a result of prenatal alcohol exposure.
Treatment
There is no cure for Fetal Alcohol Spectrum Disorder. As with any other disability and learning disability, there is support available. As the symptoms, manifestations and severity of Fetal Alcohol Spectrum Disorder can vary from person to person, the type of support for the person will need to be assessed on an individual basis – a person-centred approach. This may vary from individual education plans in learning environments, to ongoing support for individuals and their families from local authorities and health professionals. With the right person-centred approach and appropriate level of support, many children and adults with Fetal Alcohol Spectrum Disorder can often be helped to achieve their potential in life.
You might also like...