What is PMLD - Profound and Multiple Learning Disability?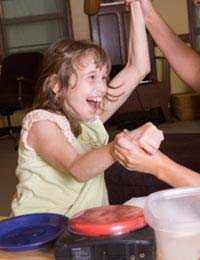 When acquiring knowledge about disabilities and learning disabilities, the term 'profound and multiple learning disability' may be mentioned. But what does it mean exactly, and what are the implications of having profound and multiple learning disabilities?
Firstly, it's important that the term 'learning disability' is recognised as a label that is convenient for some purposes, such as planning services and in discussion – however, the person, and not the disability, should always come first. A learning disability forms only one aspects of the person's character.
A learning disability is usually identified by the presence of three conditions – one or more intellectual impairments, social and intellectual dysfunction, and an early onset of the above. All learning disabilities are present (and usually identified) in childhood, the most progressive developmental period of life. Learning disabilities are not sustained in adult life, due to a disease, illness, injury or degenerative disease such as dementia.
Different Degrees of Learning Disabilities
One way that learning disability is classified is via the person's IQ. A person with an IQ of 50-70 is thought to have a mild learning disability. A person with an IQ of 35-50 is said to have a moderate learning disability, and an IQ of 20-35 may indicate a severe learning disability. An IQ score below 20 is classified as a profound learning disability.
There is, however, some debate surrounding the use of IQ scores to determine levels of learning disability. This is because whilst some people may score poorly in certain areas, they may attain average or above average results in other areas, yet their score remains low. This is why IQ scores alone should not form the absolute basis of the degree of learning disability - social adaption and social functioning are also important aspects to consider.
The kind of disabilities and their impact that the person has, and environment that the person lives in, will all affect the kind of support that they require.
Profound Learning Disabilities
The term 'profound' literally means deep or extreme, so a person with one or multiple profound learning disabilities usually requires support with day-to-day activities, such as feeding, washing, dressing and communication. The specific support that is required will always depend on the way in which the different learning disabilities impact the individual, and the environment they live in. But people with profound and multiple learning disabilities often have additional physical, sensory, mental or mobility problems that mean that they may need a minimum of around 7 hours of support each day.
For a person with profound and multiple learning disabilities, the amount of support that is required may stay at this level throughout their lives, whereas those with mild or moderate learning disabilities may require different levels of support as they experience new situations and circumstances.
Communication
One of the major challenges facing a person with profound and multiple learning disabilities, is the ability to effectively communicate their thoughts, opinions, needs and requirements. This can sometimes lead to community and social exclusion.
But in recent years there have been moves in the spheres of social care, education and health services to help ensure advocacy and promote independent living for people with learning disabilities. However, it is still thought that the needs of people with profound and multiple learning disabilities may not always be met in a satisfactory way, in part due to communication issues.
A person with profound and multiple learning disabilities may find it difficult to understand and use formal or verbal communication, and so rely on body language, facial expression, vocal sounds and behaviour to communicate. This means that they may also rely on another person to help interpret and communicate to other people on their behalf.
Sometimes what is first seen as 'challenging behaviour' could actually be an attempt to communicate an opinion or a need. A simple behaviour, such as tapping the face or body, may indicate a health issue. It is important that the person with profound and multiple learning disabilities has a solid and consistent network of support around them. This helps to ensure that their unique and individual needs, behaviours and methods of communication are met, which in turn helps them to live as valued citizens with equal rights.
You might also like...