What is Klinefelter's Syndrome?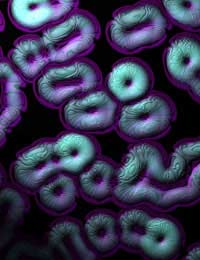 Klinefelter's syndrome is a genetic variation that occurs in males. Normally, every person has 46 chromosomes. Two of these 46 are used to determine gender. Females have two X chromosomes, while males have an X and a Y chromosome. But in some cases, a variation occurs during early fetal development and the male child is born with an additional X chromosome (XXY), making a total of 47 chromosomes.
Basics Of The Condition
Although Klinefelter's syndrome is one of the more common chromosomal conditions, it's not a condition that's well known to the general public. In many cases, there may be no obvious physical or psychological effects whatsoever. For this reason, it's entirely possible that many affected males can live their entire lives without discovering that they have an extra chromosome.
However, Klinefelter's syndrome is not totally without complications. Possible complications include cardiovascular disease and osteoporosis. Males with this abnormality often see increased incidence of mitral valve prolapse. They also face a higher risk of cardiovascular disease because of increased cholesterol levels. Some studies have linked Klinefelter's syndrome with diabetes and thyroid problems.
Klinefelter's Syndrome In Men
Exactly how does Klinefelter's syndrome manifest itself in males? Boys with Klinefelter's syndrome tend to be tall with long legs. Intellect is not normally affected, but there may be delays in motor skills and language development. Most XXY males will experience a delay in learning to walk. The development of verbal skills often lags behind nonverbal skills. The symptoms become especially apparent around the age of four. But again, it's important to keep in mind that some boys with Klinefelter's syndrome may show no delay in development at all.
In most instances of Klinefelter's syndrome, sexual development proceeds normally throughout infancy and childhood. Toward adolescence, the onset of puberty in sexual development may be delayed. Testicular development is arrested. Gynecomastia (an enlargement of the breasts) may be possible in some adolescents. There is also less growth of facial, pubic and underarm hair compared to normal males.
Other Symptoms
Non-physical symptoms connected with Klinefelter's syndrome include shyness and a lowered self-confidence. The shyness and immaturity that sometimes occurs with this genetic disorder is most likely related to the delays in language development. Low levels of self-confidence could place artificial limits on physical and academic success. Although a few psychosocial problems may persist later in life, most males with this condition will lead entirely normal adult lives.
Klinefelter's syndrome affects about one in 600 to 800 male births. Screening for this abnormality is not normally done as a matter of course. Diagnosis of the syndrome usually occurs as a result of screening for other conditions. For example, the chromosomal variation is most often diagnosed before birth during screening for Down's syndrome.
Although there is no real "cure" for Klinefelter's syndrome, it is possible to lessen the severity of symptoms through hormone therapy. Some boys with this condition (but not all) have low testosterone levels. By increasing testosterone levels through the use of injections, skin patches or gels, the physical manifestations of the condition can be altered.
Testosterone increases body hair and muscle development, shrinks or even prevents the development of enlarged breasts, and may prevent the onset of osteoporosis. Improved physical characteristics often lead to an improvement in psychosocial symptoms as well. Increasing self-confidence and self-esteem reduces negative peer relationships. Delays in language and educational development can be improved with individualised educational support and counselling.
You might also like...
I was diagnosed when I was 49 years old. I Have had a bilateral mastectomy.and i have 12 week testosterone injections.i do have problems with my weight.I am married with no children.but I do live a happy life.
Gary
- 7-Jul-20 @ 8:16 PM
I have all the traits of Klinefelter but I have overcome my disability with amazing grace of God. We are special and unique and can reach greater height by just believing in ourselves.
Anna
- 17-Jun-18 @ 6:21 AM
I was Born United Kingdom Middels borugh Yorkshire 1962 I am 52 yrs old my parents Immorgrated to Australia In 1967 I have some of the things, Health wise as you have described: You not aloneI just got constantly Told from Teachers I was Useless and nobody even spent the time to Mentor me Just spending that extra time on me would of ment the world to me as a person.I took extra reading and writing and mathamatics but some thing just wasn't making the connections.
robbo
- 14-Aug-14 @ 7:38 AM
I was diagnosed in 1993 with Klinefelter Syndrome after a severe car accident involving a drunk driver, but I came out worse as he walked away without a scratch.Since then I was under the Royal Victoria Hospital in Belfast, but they never did any further tests as they moved me from the Klinefelter Clinic to the Diabetes Clinic and to day they have never bothered with my Klinefelter and now I am going through a lot of changes and pain that I cannot answer.I am taking hot flushes, I am extremely exhausted, tired, lost self esteem, depression, I am type 2 Diabetic on tables, and Vectosa injections.I am also obese and under University College London Hospital Mr David Ralf at Andrology as he saved my life.I was referred to him by a friend and colleague of his at the City Hospital Belfast Dr/Mr Paddy Keen because of my Klinefelter Syndrome.I have systoms like Lupus and have no one to help me out as I feel so alone and it was my wife who seems to explain everything to me as my family are not interested in me what so ever because I am not in their circle as there well off and I live in a Council House along with my disabled wife Sharon who suffers from Lupus SLE, Fibromyalgia, TMJ, Herniated Discs, blackouts as we take care of each other, but it would be nice if there was support for us both concerning our illnesses.I have Klinefelter, Diabetes type 2, Neurophy, Athma, fatigue, sleep Apnea, severe depression, hot flushes, panic attacks, dyslexic, and learning disabilities. If you need answer the only person I trust my GP Dr Mark Hall who is brilliant and has a lot of patience for me and my wife. Doctors, Consultants at our hospital here in Northern Ireland are not interested in any patient that suffers from a severe illness as that is why so many people from Northern Ireland goes to England, Scotland, Wales for treatment which is a pity as we have good hospital, but to many serious mistakes have lead to to many deaths and people here do not trust our hospital anyone because of the mistakes they make as that is why I travel to London because of a Doctor using a dirty camara that he used on another patient who had a serious infection so I was sent to London to have this dealt with as your not safe in hospitals here in Northern Ireland to many blunders.
Klinefelter_Patient
- 14-Dec-13 @ 10:59 PM