What is Angelman Syndrome?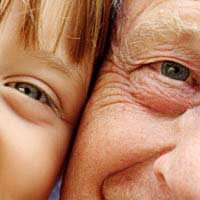 Angelman syndrome is a rare genetic condition, the symptoms of which include severe learning difficulties, jerky movements and a happy disposition. Around 48 years ago, English physician Harry Angelman first described the condition that would later bear his name. However, the prevalence of Angelman syndrome was low and debate over its existence continued for many years.
Angelman syndrome is generally considered to be a chromosomal disorder. Most cases can be traced to the partial deletion of a gene on chromosome 15. Chromosomes perform different functions throughout our body, but it is the way in which chromosome 15 functions in the brain that leads to the behaviours associated with Angelman syndrome.
Genetics
Everyone inherits chromosomes and genetic material from their mother and father. In the case of chromosome 15, the parts contributed by each parent function in different ways. For instance, only the maternal copy is active in the brain. If the mother's contribution to this particular chromosome has been deleted or, in some cases, replaced by a copy of the father's contribution, then this can result in Angelman syndrome.
There is no known cause for this genetic abnormality. It is thought to happen when an unknown factor randomly goes awry in the normal reproductive process. The condition is not passed on from parent to child, nor does it run in families. Diagnosis of the syndrome usually occurs between the ages of three and seven. Development is delayed even at the youngest ages, but usually becomes apparent by the age of six months. The characteristic features of Angelman syndrome often take a few years to become noticeable. It is worth knowing that once the syndrome is diagnosed, genetic tests are commonly used to confirm the diagnosis.
Angelman Syndrome History
Dr. Angelman first described the syndrome in an article entitled "Puppet Children" – a description that had been inspired by a painting. Children with the syndrome came to be called "happy puppets". As you may expect, this term describes two of the more noticeable manifestations of the disorder. Children that have Angelman syndrome are subject to a variety of jerky, involuntary movements as if they are being controlled by a puppeteer. In addition, the children also possess an almost unfaltering happy disposition. They smile almost constantly and often break into laughter for no apparent reason. Today, however, it is worth noting that the phrases "happy puppets" and "puppet children" are considered derogatory--the appropriate term for the condition is Angelman syndrome.
Sleep Problems
Children with Angelman syndrome may experience altered sleep patterns. The syndrome also often leads to difficulty going to sleep and staying asleep. Children are easily awakened by noise and are very disoriented when awakened. Young children with this disorder rarely sleep longer than five hours at a time, and Melatonin is often prescribed in small doses to help children fall asleep. Sleep problems almost always diminish with age, so by late adolescence and adulthood, sleep patterns are relatively normal.
A Rare Syndrome
Angelman syndrome is actually quite rare. In fact, it is so rare that precise prevalence numbers have not been established. A few studies have suggested that about 1 in 25,000 have this disorder.
Since Angelman syndrome is a genetic condition and not a disease, there is no cure. Most of the physical manifestations of the condition lessen with age, and it is believed that individualised instruction is the best way to deal with educational development delays. One program in particular, PORTAGE, has been highlighted as an excellent choice for helping parents encourage communication skills in affected children.
You might also like...
I work in a residential nursing home for people with learning difficulties. I am a senior support worker and a key worker to a young man with Anglemens syndrome. Obviously I'm not his parent but if I can answer any questions for you I will happy to do so.
Glenn
- 8-May-11 @ 10:03 PM
Hi I have a seven year old son with angelman syndrome and I am finding it hard to get in touch with parents who have a child like mine. I only know a little bit on the syndrome and would like to know more to help my son.
black
- 1-Apr-11 @ 11:02 PM