Pre-School Education Needs for Children With Learning Disabilities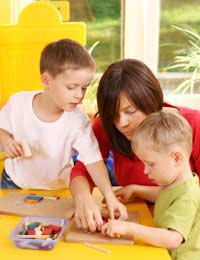 Many learning disabilities and special education needs (SEN) are identified and diagnosed during childhood. They can become apparent during antenatal pregnancy through to birth, infancy and the toddler years. However, regardless of when the diagnosis takes place, finding out that your child has a learning disability can feel like a daunting time for new parents.
The good news is that once a child has been diagnosed, parents can receive initial help from their family GP or health visitor. At this stage, they may be linked up with a specialist health visitor who is trained to provide both knowledge and support to the parents. They will also help to pass on educational and developmental support skills. This is because a pre school child with learning disabilities will require additional help and care in achieving developmental, social, emotional or cognitive milestones. This can last throughout childhood, adolescence and into adulthood.
Early Intervention
The faster that support is put in place, the better the chances of providing adequate support for the child. Pre school children are in particularly important stages of their development; they are developing pre-linguistic skills, fine-tuning motor skills, finding multi-sensory means to communicate and perceive the world around them.
So obviously any impairment in this ability to learn and develop will have a knock-on effect. In some cases, early intervention by family and supporting health professionals will help diminish the effect of the learning disability. This is the case in areas such as speech and linguistic development therapy, or physiotherapy to aid the development of co-ordination and motor skills. In other cases, ongoing therapy will help to manage learning difficulties, helping the child find ways to adapt, progress and learn.
Different Localities
The services and support available to parents with pre school children with special education needs depends on locality. However, most areas will have some sort of mainstream child support services. Typically these may include nurseries and playgroups.
In some areas, parents with newly diagnosed special needs children may be able to take them to specialised 'one o'clock centres where they can gain support from other parents. In a similar vein, child support agencies may also put parents of pre school special needs children in contact with other families that have been through similar experiences. The idea is that experiences and knowledge will assist and encourage parents, building a network of support.
In other localities, GPs or health visitors may refer parents to Primary Care Trust support teams, who will assess the child and suggest what provisions need to be made. This may then lead to the involvement of a key worker who can provide home visits. These visits may involve the utilisation of a structured pre school learning programme, or suggesting tailored developmental play activities that aid development of specific skills.
Other localities may have specialised Health and Child Development Centres, whereby parents can partake in group or individual activity and therapy sessions, according to their child's needs. Alternatively, a special needs playgroup that supports children with and without special needs may be available in the local community.
You might also like...