Placing Children With a Learning Disability in School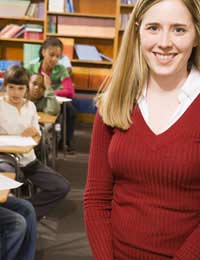 Every parent wants the best for their children, and the quality of education that they receive can be of paramount importance. But what if your child has special needs and requires additional support? This article takes a look at the processes and options associated with placing a child with a learning disability in school.
Choosing A School
Once your child has been diagnosed and assessed for special educational needs (SEN), then they may have received what is known as a Statement of SEN. This statement is issued if your local educational authority believes that your child will not be able to receive adequate support in their current school.
The local authority will also send a list of mainstream state schools and special schools in your area. A list of Secretary of State-approved independent and non-maintained specialist schools will also be sent. Parents or guardians have a legal right to say where they wish their child to be placed, whether specialist or mainstream, or in the school they currently attend.
However, unfortunately it's not completely straightforward, as there may be restrictions as to which school your child can be placed at. The local authority involved in the placement must ensure that the chosen school meets a basic set of criteria, namely:
The school you choose is suitable for your child's age, ability, skills and SEN.
Your child meets any academic selection criteria the school has (although most state schools do not select pupils by academic ability).
Your child's presence will not have a negative impact on the education of other children already at the school.
Placing your child in the school will be an efficient use of the local authority's resources.
Although as a parent or guardian, you'll be largely involved in placing your child, the final decision lies with the local authority. They aim to keep parents informed throughout the process, making sure to always explain any decision made.
Remember that you almost always have the chance to visit any school on the list provided by your local authority. It's also worth noting that that your local authority has no legal obligation to send your child to a non-maintained or independent school if there is another suitable school able to offer a place.
Which Type Of School?
As already mentioned there are a range of schools that are able to take in children with learning disabilities. There are different types of school that may cater for various needs and abilities.
Mainstream all-ability schools are run by local authorities, who handle and set any admission criteria. Local authorities may also fund and run special schools that cater for children with particular special needs. For instance, a special school may have provisions for physically disabled students. Other specialist schools may focus on providing pupils with specific difficulties such as autism or sight disabilities.
Independent schools are autonomous and are run by fees and investors. Some schools are non-maintained, most commonly earning charitable status in order to fund the running of the school.
Opting To Stay
If you don't want your child to move schools, or simply wish for them to stay within mainstream education, you will need to inform your local authority. Your local authority will most likely try to accommodate your decision, but final decisions as to whether children with special educational can stay in mainstream schools can depend on two points:
Whether your child will not negatively impact or affect the education of other children already in attendance at the school;
Whether the school is suitable for your child's abilities, skills, age and special educational needs;
Whether placing your child will be an efficient use of the local authority's resources;
In some cases, a school may also have academic selection criteria that the child will need to meet before admission is considered. However, this is practically unheard of with state-run schools.
Choosing a school for children with special educational needs is extremely important in supporting their development. Don't be afraid to ask questions and gather as much information as you can. If you have any worries or concerns, there are plenty of sources of support, information and advice. Aside from your local authority, you can always contact local charities (voluntary organisations) as well as your local parent partnership service.
You might also like...
hi my daughter as a sen support with her school am hoping you might be able to help me am trying to find out wear i couldget help with geting free learning books for reading write spelling and english and maths and learning borad game as my daughter dont seem to come home with much home work but i think she does must of them with her one to one teacher but i fell that if i was able to get the book and board game that they would help my daughter more with her learnas she could do them after school or in the hoilday as she dont bring any thingn home from school to help her and she aslo if possibale she word need the words in the book to lager print or any boarn game with card that you have to read as she as very bad eye sight and as to wear glass all the item and she aslo in joy art draw pinting colouring and makeing things they would help her alot i cant afford to buy her many of the above item as i am on a very low income and unable to work be because of bad heath and ive aslo got reading and wrighting difflent so they would help me as well could you please let me if there any sit that could help me to get the above item free for us to use at home thank you
adelek
- 15-Dec-12 @ 1:43 AM