Learning Disabilities and the Montessori Method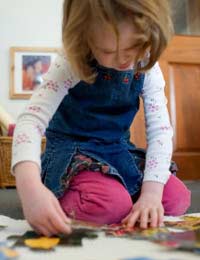 The Montessori method is based on the fundamental belief that children learn best by doing. With the Montessori method, learning takes place in an environment where passive acceptance and memorization of pre-existing knowledge are replaced with active pursuit of experiences. Instead of teacher directed group activities, students learning according to the Montessori method are encouraged to discover warning activities on their own. They may work alone, with a partner or as part of a group. They can stay with particular learning activity as long as they desire and move onto the next challenge when they are ready.
Instead of traditional classes and grades, the Montessori method utilises a multi-age classroom. Children in various stages of development learn from each other, with the younger children learning by observing older children. Older children also benefit by instructing younger children.
It turns the traditional concept of a classroom on its head by seeking ways to adapt learning approaches to each child, rather than sitting children into a rigid setting. The method is founded on the belief that exposing children to knowledge through a variety of sensory experiences promotes learning better than simply listening to a lesson. The hands-on techniques of the Montessori teaching approach employs all the senses in the learning process.
Montessori Method And Learning Disabilities
The fact that children with special needs often excel in a learning environment based on the Montessori method has generated a great deal of interest. Although the Montessori method is used with children who have a wide range of learning abilities, the developer of the method, Dr. Maria Montessori, worked with several groups of children with learning disabilities.
Perhaps one reason that the Montessori method has proven so successful among children with special needs is the pacing. Children are encouraged to move ahead at their own pace. They take up a new activity only when they are comfortable that they have learned enough from the previous activity. Another technique is highly supportive for children with learning disabilities is the degree of personal attention as students receive. Montessori teachers are not installed at the front room by the podium or imposing desk. Rather, they move throughout the room observing and assessing each individual child.
A Different Learning Style
Children with special needs find that the multi sensory, interactive environment created by the Montessori method is the perfect setting for learning. There is a high degree of stimulation and children are highly involved with their learning. This is precisely the outcome that many individual education plans seek to achieve. Many learning disabled children also derive great benefit from observing other children acting in normal and appropriate ways.
The Montessori method embraces uniqueness. Differences in learning style and pace are handled with ease. For this reason, the Montessori method is equally successful with many types of children, including children with special educational needs. And because the pace of learning is decided by the child, children stay motivated and build positive self-esteem.
If you're interested in placing your child in a Montessori school, you should be aware of the fact that some schools use the Montessori name without actually employing Montessori techniques. you should arrange to visit the school several times to make sure that the school is truly Montessori in more than name only.
You might also like...
Do toddlers with speech and language difficulties benefit better from the Montessori method of teaching and do they transition into mainstream UK schools easily enough?
hello How can I help a child with a learning disability (dyslexsia)using the montessori method thanks so much
marzi
- 2-Dec-18 @ 12:49 AM
@lickles - there are lots of Montessori nurseries and schools in the UK. A simple internet search for your location should help you find the relevant information.
AboutLearningDisabilities
- 13-Feb-15 @ 9:58 AM
How can I help a child with alearning disability using the montessori method
lickles
- 10-Feb-15 @ 2:12 PM