What is the Independent Safeguarding Authority (ISA)?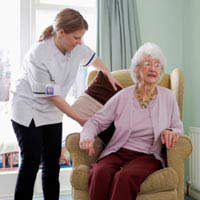 People with mild, moderate, severe and profound learning disabilities will require different levels of care and support throughout their lives. A person with mild or moderate learning disabilities may require support sporadically in different situations and circumstances, whereas a person with severe or profound and multiple learning disabilities may require continued care from a variety of services.
People involved in planning services, social care, health care, education and community services all play a vital role in ensuring that people with learning disabilities are given equal rights and advocacy, allowing them to lead as fulfilled and independent lives as possible. This means that people with learning disabilities may regularly come into contact and receive support from a variety of people.
Vulnerable Adults
Everybody should have the right to live his or her life free from abuse. Some children and adults with one or more learning disabilities may be classed as vulnerable, as they may have communication, physical or mental impairments. Other groups of vulnerable adults might include pensioners, hospital patients and prisoners.
To help ensure the safety of people with learning disabilities, and the safety of children and other vulnerable adults, the UK Government's Home Office has set up a public body called the Independent Safeguarding Authority (ISA). ISA exists to assess the suitability of any person that wishes to work with children or vulnerable adults.
Registering with the ISA
The ISA's scheme requires those working with children and vulnerable adults to register their details on the ISA's database, so that their backgrounds and suitability can be thoroughly checked and assessed. The scheme applies to almost anyone that wants to work in education, from teachers through to cleaners and site agents. This includes anyone that regularly visits schools and educational establishments where children and vulnerable adults are present, such as school governors, health workers, speakers and sports coaches.
Clergy and health workers who regularly come into contact with children and vulnerable adults will also need to register with the ISA. Volunteer workers can register with the ISA for free, but paid staff or their employers will have an obligation to register for a fee of £64.
The fee is one-off, and includes an enhanced CRB (Criminal Records Bureau) check. Although the scheme is not fully operational, it has been estimated that it should be completely rolled out by around 2015, and proves the largest project of its kind in the world.
Concerns and Referrals
A referral is when an employer notifies the ISA of any relevant information or concerns about any person that indicates that a child or vulnerable adult (in the workplace or volunteer environment) has been harmed, or is at risk from harm. At present, there is legislation in place that requires employers of those working with vulnerable adults and children to make a referral to the ISA in certain instances - the Safeguarding Vulnerable Groups Act (SVGA) 2006 (in Northern Ireland, this is known as the Safeguarding Vulnerable Groups (Northern Ireland) Order (SVGO) 2007.
A referral is made only when the employer has sufficient evidence to support the allegation and the criteria for making the referral is met, and the person in question has been removed.
The criteria for referral includes evidence of a caution of conviction from a relevant offence (as a result of a CRB check), evidence to show that the person has been engaged in relevant conduct to vulnerable and adults and children that has harmed them (action or inaction such as neglect), or evidence that children or vulnerable adults are at risk from harm (a harm test) although no relevant conduct (action or inaction) has been undertaken.
In light of evidence and information, and taking into account lifestyles and beliefs, if it is believed that the person in question does pose a risk or harm to children or vulnerable adults, or has committed an act of harm, then they are automatically placed on a barred list which prevents them from working with these groups in future. In some cases there may be a right of appeal, and in matters of law and fact they may appeal to a body called the Upper Tribunal.
You might also like...
Hello I jeed ro find and appoint a independant safegurding profesianal for my daugher hat was pacedin care based on ftaud andothrt and Im woried.for her safety there as im being discrinated and make problems as it looks they want to make her forever theirs formoenybut therr were kot actual prblems in my side but relaxed fa.aily or mother and child. I wish fo aks corut to have indeoansant safegued lead asafcass is crap at comss and I disagree thaf my 9 tear old is safe afall. Please belige that i know this crew who arekoy quite fostets but otther and i dont think alm are liekthat but these dotn provide contactsocne 30th Nov 2020? Thanks
Daca
- 1-Feb-21 @ 10:13 AM
My adult daughter goes to a Day Centre which,in my opinion, is overcrowded. Her placement is in a room with about 18 others including wheelchair users.It is very noisy, with limited space to move around, and she has sensitive hearing. There are about 150 people attending the Centre plus staff. The building was built for 120. Many of those who attend have severe behavioural problems with some needing two and three staff to keep them under control. It is my opinion that my daughter suffers distress every day, and that her human right to feel safe is being violated. Can you please advise me.
JJ
- 21-Jul-20 @ 11:01 AM
I require info or advice regarding any services or help my daughter miley who is 4 years old and has a diagnosiss of autism in the context of global delayed development, but gets no help from any one inc all the so called professionals that attend our monthly meetingsThanking you send by post as my daughter smashes all gadgets in my home, thanks again
None
- 6-Feb-18 @ 1:59 PM