All About Cerebral Palsy and Learning Disabilities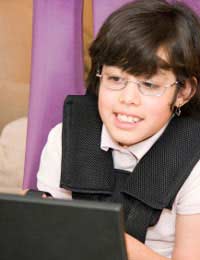 In cerebral palsy (CP), the ability to control movement and posture is impaired by damage or faulty development in the brain. Factors that cause CP usually occur before or during birth. However, it is possible for a child to develop cerebral palsy in the early years of life as a result of infection or head trauma. The condition is not contagious or inherited. CP is not progressive (that is, the symptoms do not worsen with ageing).
Causes And Symptoms
Most cases of cerebral palsy have no obvious cause. Premature or low-birth-weight babies are at higher risk of developing CP, as are infants who suffer from malformations in other body systems. When cerebral palsy is diagnosed, the first thing that physicians look for is a malformation in the brain and brain development. As medical care has advanced, CP caused by birth trauma has become less prevalent. However, the improved survival rate of premature or low-birth-weight babies has led to an increased incidence of CP among these infants.
The effects of cerebral palsy can range from almost complete disability requiring life-long care to a mild awkwardness requiring no specialised assistance. The difference in severity appears to be related to which specific parts of the brain are affected.
Cerebral palsy is normally classified into four main types. In some cases, muscles are tight, weak and stiff, and controlling movement, such as walking, is very difficult. This type is called spastic cerebral palsy. Athetoid (or dyskinetic) cerebral palsy occurs when muscle control is interrupted by unwanted spontaneous movements. Some cases of CP include shaky movements and difficulty with speech and balance. These are referred to as ataxic cerebral palsy. Whenever any of these three types are combined, the resulting condition is referred to as mixed cerebral palsy.
Learning Disabilities And Cerebral Palsy
An unfortunate, but common misconception is the assumption that children with CP will also have learning disabilities. It is easy to understand how this myth arose since cerebral palsy is usually accompanied with difficulty controlling facial movements and speech. People with CP may have severe to moderate learning disabilities, but it's also possible for them to be extremely intelligent.
Conductive Education
The techniques for teaching children with cerebral palsy vary widely. Decisions regarding the best methods to implement should be made in consultation with professionals, including educators, psychologists, physical therapists and others.
A teaching practice that has shown great success among people with CP is "conductive education." It is a learning system that develops the ability to function more independently. The technique was first developed in Hungary, but has been practiced in the UK for more than twenty years.
Conductive education is based on the premise that simply helping a child with CP will reinforce their feeling of helplessness and drive them toward greater dependence instead of leading them toward independence. In conductive education, a leader (the "conductor") helps children learn that they have the capacity within themselves to overcome obstacles and disabilities. As learners progress, the conductor must constantly and dynamically assess progress and adjust instruction as necessary. When they realise they can find their own solution to a problem, they share in the joy of discovery and move toward more independent functioning.
You might also like...