All About Employment and Learning Disabilities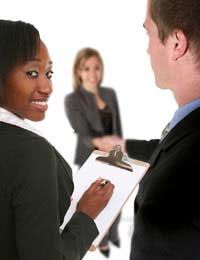 In the past, employment opportunities for people with learning disabilities have been exceptionally limited. This has been due to a number of reasons, from misconceptions about the abilities and skills of people with learning disabilities, to a lack of support for the learning disabled in setting out and following an employment route.
At present, it is thought that less than ten percent of people with learning disabilities are actually in paid employment. But in recent years, under the guidance of initiatives such as the UK Government's Valuing People white paper, there have been moves to promote employment opportunities and increase support for people with learning disabilities who are seeking employment.
Increasing Opportunities
The Government has said that there needs to be more opportunity and equality for people with learning disabilities in all areas of life. Part of this of course includes employment opportunities and career development. But for a move towards equality, people with learning disabilities may require extra assistance and specialised support in finding work. They may also require support once they've entered into employment. This kind of assistance is often known as 'supported employment'.
The ethos is that support needs to be as individualised as possible, which means that services have to be provided on a local level. This is partly because the Government has outlined that individuals with learning disabilities should have more say in what services and support they receive, as well as more control over the choices that they make for their future.
In order for this to happen, support has to be provided on a localised level, so that cases can be handled on an individual level. This approach is to help to ensure that people with learning disabilities have the same choices and opportunities as those without learning disabilities.
Local authority learning disability partnership boards sometimes offer learning support services. There are also schemes in place nationwide, such as Workstep schemes under the Welfare to Work employment strategy. Support staff can assist with tasks such as CV writing, preparations for interview and finding appropriate training schemes to increase a person's employment prospects. They may also extend training and support to improving social skills and encouraging a work ethic.
Local authorities are also now being encouraged to forge links between day centres and training providers and Support Employment programmes. By opening pathways into local communities, it is hoped that there is more chance that employment prospects for people with learning disabilities can be realised.
Equality And The Law
The Government's strive for equality for disabled and learning disabled people in employment has also been reinforced via legislation and regulation. The Disability Discrimination Act (2005) has been updated so that it gives disabled people a fair chance at being considered for a job. It also ensures that reasonable adjustments are made for disabled people in the workplace, in order for them to be able to complete their work to the optimum standard.
Reasonable adjustments can be anything from making small changes within the workplace to increase disabled access, or re-adjusting work times or business practices. This can anything from changing a roster, or making allowances for travel arrangements. It may also include training programmes and including specialist support services.
There are many services and groups dedicated to improving work opportunities and working environments for people with learning disabilities. The main issue for many people is finding out and accessing the services in the first place.
Local authorities are under guidance from the Government to improve local employment opportunities for learning disabled people, and are continually improving the path to employment. If you want to know more, contact your Care Manager or Social Worker as a first step.
You might also like...
looking for part/full time work in or around north wlasham
yogibear930
- 3-May-18 @ 8:29 AM