Becoming a Carer for an Adult with a Learning Disability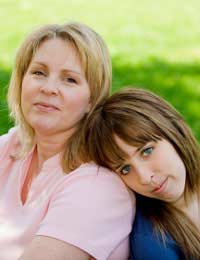 There are several reasons why one might become a carer for an adult with learning disabilities. The most common scenario is when a child with learning disabilities matures into adulthood. Their disability may be severe enough to make fully independent living impossible. The most obvious solution, and the solution that provides safety and security for the child while avoiding guilt for the parent, is to continue caring for the adult child at home. However, this is not a decision to be taken lightly. A carer for a learning-disabled adult faces many challenges.
Caring For Adults
When you are caring for an adult with learning disabilities, your responsibility never really ends. When you become a carer, it isn't like taking on a job from which you can walk away at the end of the day. The almost continuous demands that are placed on the carer are exhausting and can stress tempers and strain relationships.
If you have younger children in addition to the adult child with a learning disability, that relationship can be profoundly affected as well. The learning disabled adult will likely take the lion's share of your focus. Younger siblings may feel neglected. Resentment will build if these feelings are not successfully addressed. You should take special care to consider the needs of all your children, although this will require considerable effort.
In the 21st century, the job of carer also entails more than simply assisting with day to day activities; a carer is an important link to the wider community, to job opportunities, better access to health care and other services. For those with non verbal or verbal communication impairments, a carer often becomes the communication link, helping the person with learning disabilities to express their needs and goals.
Challenges
As a carer for an adult with a learning disability, your social life will be seriously curtailed. At a time when many of your friends' children are leaving home, your life will remain relatively static. Freedom to actively pursue social activities will be limited. A sense of being isolated and excluded may develop as you find it more and more difficult to locate adequate babysitters. Utilising respite care is an option, but is rarely available more than once per week.
Your future transforms from a vision of retirement and leisure into concern about planning for the day when you become unable to care for your child. Questions about what happens after you die must be considered and answered.
A carer for an adult with learning disabilities must deal with more than just cognitive difficulties. Often there are associated medical issues that make caring more difficult, depending on the specific disability. For example, when a child with Down's syndrome transitions into adulthood, they face a much higher risk of illnesses and conditions like thyroid disease, hearing loss, Alzheimer's and more.
Support
You should know that you are entitled to a carer's assessment. This assessment, usually conducted by a local authority, will determine what sort of impact your role as a carer is having on your physical, mental and emotional well-being.
A carer's assessment will also address your educational, employment and social aspirations. The assessment is a way to provide connections between you, the adult for whom you care, and the services you both need. If you don't qualify for services, the assessment is still valuable because you can then be directed to other organisations.
The largest social service gaps today exist between available services and carers who need them. If you have become a carer of an adult with learning disabilities, then you should know that provisions have been made for you, and in many cases you will qualify. These services are designed to ease the burden of constant care and provide resources and training to make you more successful in your role. Contact the CSCI or your local authority to find out how you can receive additional support in your role as carer.
About Learning Disabilities is sponsored by Purely Energy, who have funded a lot of our content. If you are looking for a low cost business energy supplier, take a look at their website.
ABOUT LEARNING DISABILITIES IS FOR SALE.
This website is for sale [more info].
You might also like...
Hello - I am really keen to get into a career in caring for adults with learning disabilities. Please can you let me know who I should contact to find out where there might be opportunities in Bristol. I am 27 & have worked with the public in the beauty industry for 10 years and I'm now looking for a new more rewarding role. Thanks in advance. Shannon.
Shannon
- 23-Dec-20 @ 11:14 AM
Hi,My son is 18, with autism and learning difficulties, and a mental age of about 5.He leaves school next year when he will be 20, and I want to continue to care for him.The problem is that we will loose Child Benefit, Tax Credits etc, will mean that our income will drop substantially and I'm not sure we will be able to cope financially.I feel that all the information available is trying to persuade me to put him into residential care. for a young adult who is like a 5 yr old, this would be too distressing.If you can offer any advice it will be most welcome. Thanks
Sam
- 14-Feb-19 @ 7:49 PM
LindyLou - Your Question:
My 57 year old brother has severe learning disabilities, is completely blind and suffers from epilepsy and a heart complaint. He is supported by carers in his home but I manage all his affairs on his behalf. He does not communicate. I would like to set up a power of attorney on his behalf. Is this possible?
---
Our Response:
Yes -
here is the government's advice
on setting up lasting power of attorney
AboutLearningDisabilities
- 1-Mar-17 @ 11:15 AM
My 57 year old brother has severe learning disabilities, is completely blind and suffers from epilepsy and a heart complaint. He is supported by carers in his home but I manage all his affairs on his behalf. He does not communicate. I would like to set up a power of attorney on his behalf. Is this possible?
LindyLou
- 27-Feb-17 @ 12:27 PM